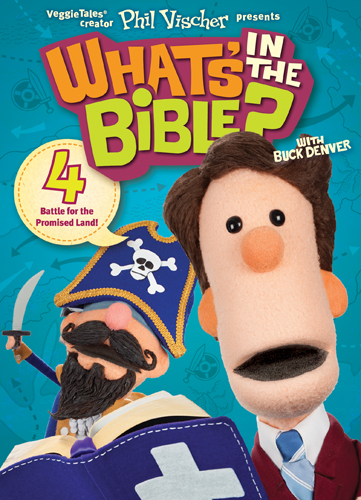 A few months ago, my nine-year-old daughter asked me how come God wanted us to read the Bible since it is so hard to understand. My mother's heart broke because I totally understand her. We had a quick theology 101 class where I explained to her how the Holy Spirit lives in her and will give her knowledge and wisdom to understand God's Word if she would ask for it. Then I explained to her my own experience with reading God's Word. It took me lots of years of "practice" until I finally felt God's voice while reading the Bible. Which led to even more theology as we discussed how we can "feel" a voice.
Anyway, our family was excited to receive a copy of Phil Vischer's What's in the Bible 4: Battle for the Promised Land. As we are not great Veggie Tales fans I didn't quite know what to expect from this series.
This is a great choice for a family movie night where the whole family can learn something. My three younger children watched the movie. Alyssa (9) and Hunter (7) fell asleep and had to watch it over a couple of sittings but my Palmer(4) loved it! He's been singing the catchy songs and keeping us all in stitches. I loved knowing my children were learning something worthwhile as they sat in front of the television. There was something for every member of the family to learn from basic Bible facts, characters and truths to historical facts that even Bible scholars will find refreshing.
Both Alyssa and Hunter said they learned from the movie. Hunter said the stories made confusing facts in the Bible easier to understand.
They both found it entertaining. Alyssa said it was funny and Hunter said he loved the songs.
Alyssa said she would enjoy the rest of the series but Hunter said he wouldn't want to watch them.
Alyssa couldn't pick a favorite character but Hunter thought Buck Denver was pretty cool.
For more information go
here
and
here
. Leave a comment here through this weekend to win a free copy for your family.