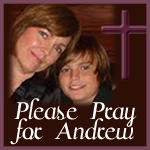 (To read Andrew's story click on the picture above.)
Upon hearing of Andrew's death I was speechless and numb. As I began to weep, I started to pray.
"Lord, you know I love you. You know I trust you. You know I believe you are good. But, Lord, you know I have to ask 'Why?'"
"Why now? At Christmastime?"
"I hate that I am preparing to go buy my children Christmas presents and Melanie is preparing to bury her son."
"Why?"
And quietly, in my questioning, He spoke.
Lisa, why are you buying your children gifts?
"Because I love them, Lord and I want to shower them with affection. I want them to celebrate an outward expression of my love."
And what will you do with the gifts that you buy?
"I'll wrap them and place them under the tree for my children on Christmas Day, Lord."
What will your children do with the gifts?
"Why they'll take delight in them and enjoy them and use them."
Even quieter…
What will Melanie do with Andrew?
Me, softly, "She'll place him in a box and present him to you, Lord."
And I will take great delight in him and enjoy him and use him.
You may not see it yet, but Melanie is blessed among women. She has the opportunity to give me a very precious, rare and costly gift that most can never give. She knows I
will use his story.